Publications
Find a range of publications here to help you understand and apply the BC Energy Step Code:
1. Guides and Handbooks
Listed alphabetically by title.
BC Energy Step Code: A Best Practices Guide for Local Governments
Published by the Energy Step Code Council and the Building and Safety Standards Branch | 2019
The Best Practices Guide is a resource for all local governments in British Columbia interested in referencing the BC Energy Step Code in policies, programs, or bylaws. The guide delves into the nuts and bolts of the standard, and offers context and clear information on the characteristics of each step. It highlights anticipated costs and benefits and offers guidance on suggested timelines and effective engagement for developing a community-specific strategy for implementing the BC Energy Step Code.
BC Energy Step Code Builder Guide
Published by BC Housing |  2018
This guide provides information on the key strategies and approaches that builders can use to meet the BC Energy Step Code for houses and low-rise (Part 3 and Part 9) wood-frame residential buildings up to six storeys. It's a companion work to the BC Energy Step Code Design Guide.
BC Energy Step Code Design Guide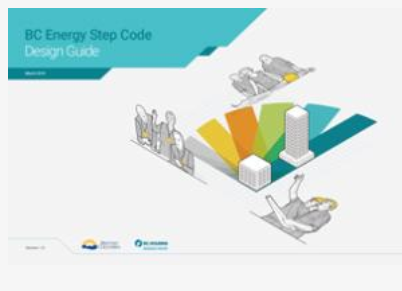 Published by BC Housing | 2018
The guide will help local governments and industry understand the benefits and impacts of key design strategies necessary to achieve each step of the standard, including both mechanical and envelope strategies. It also offers a graphic explanation of more detailed implementation tactics related to heating, ventilation, and air-conditioning (HVAC) solutions and strategies.
Building Envelope Thermal Bridging Guide
Published by BC Housing | 2018 (v 1.2) 
This guide aims to help the B.C. construction sector realize more energy-efficient buildings by looking at current obstacles and showing opportunities to improve building envelope thermal performance. Version 1.2 expands the thermal performance catalogue with additional data for many newly analyzed assemblies and details. This includes more cladding attachment systems, window interfaces, precast concrete interfaces, wood-frame and brick veneer walls, and other thermal mitigation systems.
Guide to Low Thermal Energy Demand for Large Buildings
This guide aims to broaden the common understanding of how large buildings can meet higher levels of performance as required by Passive House, BC Energy Step Code, City of Vancouver Zero Emission Building Plan and City of Toronto Zero Emissions Building Framework. This guide has a focus on current Canadian code requirements, construction practice and tested systems.
Illustrated Guide – Achieving Airtight Buildings
Published by BC Housing | 2017
This guide is an industry resource to design, build and test airtight buildings. It also consolidates information on achieving airtightness in buildings, with a focus on larger or more complex building types while ensuring building enclosure performance, including moisture management, thermal performance and durability. Published by BC Housing, BC Hydro and the City of Vancouver.
Whole Building Energy Modelling Services (Professional Practice Guidelines)
Published by Engineers and Geoscientists BC and the Architectural Institute of BC | 2018
These Guidelines provide guidance on the provision of services pertaining to building energy performance modelling and analysis, including, but not limited to, the responsibilities of members of a design team providing Building Energy Modelling services. They also address considerations that apply when hiring or evaluating the qualifications and/or work of a Qualified Modeller.
2. BC Energy Step Code Bulletins
Bulletin 1 – The BC Energy Step Code and Home Energy Labelling
Learn how local governments adopting the BC Energy Step Code for Part 9 buildings can, at no additional cost to the builder, provide home buyers with a home energy label that provides information about the energy performance of the home.
Technical Bulletins
Visit the Building and Safety Standards Branch's Technical Bulletins web page for technical bulletins about the BC Energy Step Code.

3. Reports
Lessons from the BC Energy Step Code
This report documents the story of the BC Energy Step Code's development and the lessons learned from the experience. It is intended for any jurisdiction that may be considering a performance-based stepped energy code, or any jurisdiction interested in a market-transformation model that is grounded in shared leadership.
Local Government BC Energy Step Code Readiness Survey
These BC Housing reports present information collected through annual local government surveys. The purpose is to help determine the current level of knowledge of the BC Energy Step Code that exists in communities across B.C. as well as their capacity and interest in adopting a level of the BC Energy Step Code in the near future.
Metrics Research Report
The Metrics Research Report is a comprehensive exploration of the energy, emissions and economic impacts of the BC Energy Step Code. It was commissioned by BC Housing in partnership with BC Hydro, the BC Building and Safety Standards Branch, the City of Vancouver, and Natural Resources Canada. It was originally published in 2017 and updated in 2018.
2018 Edition
2017 Editions
Other Reports
BC Energy Step Code Development for Public Sector Buildings
Capacity and Market Scans
National Reports
4. BC Energy Step Code Brand Handbook
The two-volume Brand Handbook provides design and style guidance for governments, organizations, or companies that would like to use the brand to communicate accurate information about the standard to constituents, customers, or stakeholders. The Brand Handbook consists of two sections. They are distributed as separate files, but intended to be used together:
Page Last Updated: August 26, 2019.