Resources for Industry
The resources on this page will be of particular interest to builders, developers, architects, designers, and other industry practitioners.
Be sure to visit All Resources to see everything we have available and the Events calendar.
BC Housing Builder Guides
BC Housing, a provincial crown corporation, undertakes research and education to benefit the residential construction industry and consumers across the province. In particular, under the provisions of the Homeowner Protection Act, the agency works to improve the quality of residential construction in British Columbia. BC Housing has developed a variety of resources to increase industry familiarity with the BC Energy Step Code.
BC Energy Step Code Builder Guide
This guide provides information on the key strategies and approaches that builders can use to meet the BC Energy Step Code for houses and low-rise (Part 3 and Part 9) wood-frame residential buildings up to six storeys. It's a companion work to the BC Energy Step Code Design Guide.
BC Energy Step Code Design Guide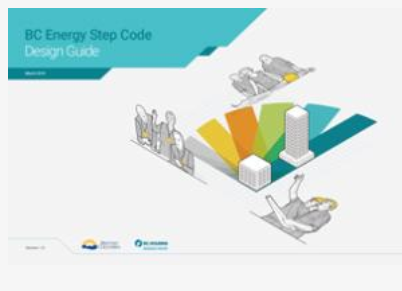 The guide will help local governments and industry understand the benefits and impacts of key design strategies necessary to achieve each step of the standard, including both mechanical and envelope strategies. It also offers a graphic explanation of more detailed implementation tactics related to heating, ventilation, and air-conditioning (HVAC) solutions and strategies.
Building Envelope Thermal Bridging Guide
This guide aims to help the B.C. construction sector realize more energy-efficient buildings by looking at current obstacles and showing opportunities to improve building envelope thermal performance. Version 1.2 expands the thermal performance catalogue with additional data for many newly analyzed assemblies and details. This includes more cladding attachment systems, window interfaces, precast concrete interfaces, wood-frame and brick veneer walls, and other thermal mitigation systems.
Guide to Low Thermal Energy Demand for Large Buildings
This guide aims to broaden the common understanding of how large buildings can meet higher levels of performance as required by Passive House, BC Energy Step Code, City of Vancouver Zero Emission Building Plan and City of Toronto Zero Emissions Building Framework. This guide has a focus on current Canadian code requirements, construction practice and tested systems.
Illustrated Guide – Achieving Airtight Buildings
This guide is an industry resource to design, build and test airtight buildings. It also consolidates information on achieving airtightness in buildings, with a focus on larger or more complex building types while ensuring building enclosure performance, including moisture management, thermal performance and durability. Published by BC Housing, BC Hydro and the City of Vancouver.
Local Energy Efficiency Partnerships (LEEP)
LEEP enables builders to reduce their time and risk by using innovations that can help them build higher performance homes better, faster and more affordably. Builder groups use LEEP to collaborate on opportunities and innovations for home building in their markets.
LEEP hosts builders in collaborative forums, where they exchange insights and ideas with stakeholders. The result: Fresh insights on how to construct better, higher-performing homes more quickly and affordably.
BC Housing and BC Hydro recently co-produced a series of five videos to help demystify the various solutions that builders will be using to construct comfortable and energy-efficient new homes in communities that incentivize or require the BC Energy Step Code. Each video runs between 2:30 and 3:30. They can all be watched in about 20 minutes and feature builders in Agassiz, Cariboo,  Chilliwack, New Westminster, and Squamish.
Page Last Updated: August 12, 2019