Resources for Local Governments
This page has resources that are of particular interest to local governments which may, if they wish, use the BC Energy Step Code to increase the energy performance of new buildings in their communities.
Be sure to visit  All Resources to see everything we have available, and Events for a list of upcoming events.
1. BC Energy Step Code Requirements
BC Energy Step Code Convenience Copies
City of Vancouver Energy Modelling Guidelines
2. Publications
Best Practices Guide
The Best Practices Guide is a resource for all local governments in British Columbia interested in referencing the BC Energy Step Code in policies, programs, or bylaws. It is a publication of the Energy Step Code Council and the Building and Safety Standards Branch.
The guide delves into the nuts and bolts of the standard, and offers context and clear information on the characteristics of each step. It highlights anticipated costs and benefits and offers guidance on suggested timelines and effective engagement for developing a community-specific strategy for implementing the BC Energy Step Code.
Provincial Policy Guide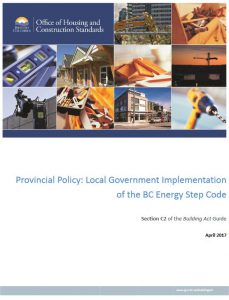 This guide explains the policy intent of the BC Energy Step Code and its use and application by local governments and other local authorities under the Building
Act.
BC Housing Resources
BC Housing is developing a variety of resources to increase familiarity with the BC Energy Step Code.
An Illustrated Guide to Achieving Airtight Buildings | 2017

This guide is an industry resource to design, build and test airtight buildings. It also consolidates information on achieving airtightness in buildings, with a focus on larger or more complex building types while ensuring building enclosure performance, including moisture management, thermal performance and durability
BC Energy Step Code Design Guide | 2018

This guide provides information on the key strategies and approaches to meeting the Energy Step Code in mid- and high-rise (Part 3) wood-frame and non-combustible residential buildings within B.C.
Guide to Low Energy Demand for Large Buildings | 2018

This guide aims to broaden the common understanding of how large buildings can meet higher levels of performance as required by Passive House, BC Energy Step Code, City of Vancouver Zero Emission Building Plan and City of Toronto Zero Emissions Building Framework – this guide has a focus on current Canadian code requirements, construction practice and tested systems
Other Publications
Case Studies
Visit Case Studies to learn how and why builders and communities are using British Columbia's new energy-performance building standard.
BC Energy Step Code Metrics Research Report
The BC Energy Step Code Metrics Research Report presents the findings of a comprehensive exploration of the energy, emissions and economic impacts of the BC Energy Step Code. The research represents one of the most extensive energy analyses of buildings in Canada.
BC Energy Step Code Bulletins
Bulletin 1 – The BC Energy Step Code and Home Energy Labelling (PDF)
Learn how local governments adopting the BC Energy Step Code for Part 9 buildings can, at no additional cost to the builder, ensure home buyers have a home energy label that provides information about the energy performance of the home
Read the Put a Label on It full report (PDF, 1.1MB) to learn more about the opportunities and benefits of energy labelling disclosure for new homes
BC Energy Step Code Brand Handbook
The two-volume Brand Handbook provides design and style guidance for governments, organizations, or companies that would like to use the brand to communicate accurate information about the standard to constituents, customers, or stakeholders.
BC Energy Step Code PPT
The Energy Step Code Council has prepared a PPT that interested parties may use in adherence with the brand guidelines.
3. Compliance Tools
Local-government officials may use the forms below to enforce BC Energy Step Code policy. These forms aim to streamline and standardize the compliance process across the province, while reducing headaches for designers working in multiple jurisdictions.
BC Energy Compliance Reports – Performance Paths for Part 9 Buildings
These reports provide a standardized report template for Part 9 buildings complying with Subsection 9.36.5. or 9.36.6. of the 2012 BC Building Code. These reports will be highly useful for building officials monitoring compliance with the BC Building Code.
4. Local Government Peer Networks
The Sustainable Communities Program at BC Hydro hosts two networks designed to support local government staff members with BC Energy Step Code implementation. One addresses issues specific to smaller communities, and one assists larger communities. Join a network to learn what other local governments are doing, get advice, ask questions, share ideas, sign up for newsletters and more. Contact: sustainablecommunities@bchydro.com.
5. Energy Step Code Council Notification Form
For the next few years, the Energy Step Code Council will be closely following local government interest in the BC Energy Step Code. Our goal is to better direct and inform industry capacity-building efforts, and identify potential training shortfalls or capacity crunches. Local governments are asked to signal their intentions to the Energy Step Code Council – through the Province's Building and Safety Standards Branch – at two key points in the implementation process:
Initial Notification: When a government begins consultation with industry on its proposed approach
Final Notification: When a government establishes or ratifies a bylaw, policy or program that references the BC Energy Step Code
Learn more via Notification.
6. Incentive Programs
Learn about a range of financial incentive programs for energy-efficient buildings constructed in B.C. for
Better Buildings BC: The Net-Zero Energy-Ready Challenge
Better Buildings BC is a provincial incentive program and juried competition designed to support, promote and celebrate the design and construction of net-zero energy-ready buildings. Expressions of interest must be submitted to the Program Administrator no later than 11:59pm on November 30, 2018.
7. Events and Recorded Presentations
Visit Events to find out about upcoming presentations. Below, we offer links to recordings of past events.
Summer 2017 Local Government Webinar Series
This three-part webinar series provided an introduction to the BC Energy Step Code.
Introductory Webinar on the BC Energy Step Code
The BC Energy Step Code and the Future of BC's Built Environment (external link) addresses how how the BC Energy Step Code works, and how local governments and industry can implement it.
BC Energy Step Code Technical Training Series
This four-part technical-training series introduces builders and practitioners to the BC Energy Step Code it, explains how it applies to Part 9 and Part 3 buildings, and reviews how local governments will enforce its requirements. Each session is about one hour.
Last Updated: December 10, 2018.