Resources for Homeowners
Homeowners and consumers interested in learning more about the BC Energy Step Code can find resources here. Be sure to visit All Resources to see everything we have available.
Publications
Consumer Guide to High Performance Homes
High performance homes offer multiple benefits to those who live in them, including lower energy use (helping residents reduce energy bills), improved health, increased comfort, reduced pollution, increased natural light, reduced noise levels, and increased resale value. This BC Housing guide helps consumers make informed decisions when looking to buy, design, or build a high-performance home in British Columbia.
Local Energy Efficiency Partnerships (LEEP)
LEEP hosts builders in collaborative forums, where they exchange insights and ideas with stakeholders. The result: Fresh insights on how to construct better, higher-performing homes more quickly and affordably.
BC Housing and BC Hydro recently co-produced a series of five videos to help demystify the various solutions that builders will be using to construct comfortable and energy-efficient new homes in communities that incentivize or require the BC Energy Step Code. Each video runs between 2:30 and 3:30. They can all be watched in about 20 minutes.
BC Home Energy Coach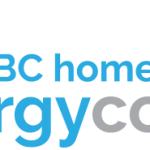 Interested in home energy upgrades? The BC Home Energy Coach program provides easy-to-navigate, self-serve website tools, including a home energy incentives and rebates search tool, resources to learn about energy-efficiency products and services, and a regularly updated, frequently asked questions series. Knowledgeable program staff are available by phone or email six day a week to answer consumer questions at all stages of their home-energy improvement project.  Contact BC Home Energy Coach at 1.844.881.9790 or visit www.bcenergycoach.ca.  This program is one of several energy-efficiency services offered through CityGreen Solutions.
Utilities
If you're thinking of building or renovating a home, consider options for improving energy efficiency.